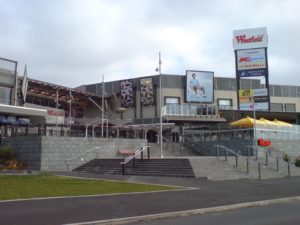 Albany is one of the northernmost suburbs of the contiguous Auckland metropolitan area in New Zealand. It is located to the north of the Waitemata Harbour, 15 kilometres northwest of the Auckland city centre. The suburb is in the Albany ward, one of the thirteen administrative divisions of Auckland City. One of the city's newest suburbs, it was until relatively recently a town in its own right, and still has a feeling of not being truly a part of the city, which lies predominantly to the southeast of it. Much of the land to the north of Albany is still semi-rural.
The Māori name for the area was Okahukura (literally, 'place of rainbows' or 'place of butterflies'). The town was originally known as Lucas Creek, but was renamed in 1890 after Prince Leopold, Duke of Albany, a son of Queen Victoria.[1] The name Albany derives from Alba (Gaelic for Scotland) and its Latinisation.
In 2005, there were plans to turn a major swath of Albany into a planned mini-urban centre, described as a "happy mix of businesses, hotels, shops, apartments, and entertainment (including) an environment of parks and lakes and of tree-lined streets, paths and cycleways linking to the new Albany park-and-ride bus station and the rapid-busway lanes along the Northern Motorway to downtown Auckland", according to a newspaper report.[2] It would be home to 10,000 people.[2] Authorities wanted sound-proofed apartments against outside noise.[2] Initial plans called for hotels, library, municipal swimming pool as well as the headquarters for the North Shore City Council.[2] In some respects, development has proceeded accordingly, but the 2008–09 economic downturn has blunted some of this activity.
Demographics
The population was 2,169 in the 2006 Census, an increase of 1,224 from 2001.[3][4] There were 780 occupied dwellings in 2006.[4] Demographic makeup of Albany is 66% European, 5% Maori, 2% Pacific peoples, 22% Asian, 2% Middle Eastern/Latin American/African, and 10% other.[4] The median income of $29,200 was higher than for the Auckland Region of $26,800.[4] 47% of persons age 15+ have a post-school qualification, compared with 43% of Aucklanders in the general region.[4] There is a higher percentage of person describing themselves as "managers" in Albany, compared to the Auckland region, and fewer describing themselves as "machinery operators and drivers" or "labourers".[4] But unemployment in Albany at 6.6% was somewhat higher than for the Auckland region (5.6%).[4] 77% had Internet access and 83% have cell phones.[4] Cars are prevalent.[4] A near majority (48%) were born overseas.[4] Ethnically, in keeping with the wider North Shore, Albany is predominantly Pakeha and Asian, and has a relatively high proportion of recent migrants from both elsewhere in New Zealand and overseas.
Retail and commercial activity
Albany has become, in some respects, a substantial shopping and retail zone within the northwestern Auckland area.
The area (the future 'Albany Town Centre') is fast-growing in terms of its population and the development of the built environment, following planning decisions and land sales made by central and local governments in the 1980s and 1990s. Through the 1990s industrial and retail areas were rapidly produced, predominantly owned and occupied by local and foreign corporate capital. A major shopping centre hub was opened in the late 1990s and has since expanded, with Westfield Albany becoming New Zealand's largest shopping centre. The so-called supermall opened in August 2007 on McKinnon Drive costing $210 million with 142 shops built by over 3500 workers, which features 1800 cinema seats and an indoor area of 7ha.[5] There is parking for 2300 vehicles.[5] K-mart, Farmers, and New World stores are anchors.[5] The mall claimed it provides "free space for community organisations for awareness and fundraising activities" but one volunteer claimed he was ejected from the premises while trying to raise money for veterans because of a dispute with mall management.[6]
There has been development of a substantial retail project anchored by a 10,000 square metre Mega Mitre 10 store on Oteha Valley Road, across from the North Harbour Stadium, run by Symphony Projects Management.[7]
Albany has been the site of a $500 million so-called Super City showcase development project. Plans in 2006 featured a 200-room hotel, apartment complex with three 30-storey towers, and up to 15 office blocks rising 10 levels high.[8] But in the economic downturn of 2008–09, the project was in dire straits; one report suggested up to 350 investors (many elderly) risked losing up to $20 million.[9]
Albany has a site for Sky Television's Prime TV, as well as the Broadcast Centre for Sky PPV.
There are movie theatres[10] including the 1800-seat multiplex inside the new mall, although there were reports of roof problems and weathertightness.[11] A large furniture store opened in May 2009 creating up to 30 jobs.[12] High tech firms such as Garmin, a firm specializing in satellite navigation and communications technology, has a showroom in Albany.[13] There are upscale restaurants.[1][14] Surf-wear fashion retailer Billabong has an outlet store in Albany.[15][16][17]
Residential real estate
Considerable housing development has also taken place since the early 1990s, which has been facilitated by the extension of the Northern Motorway through the area. There are upscale properties; one large property (318 sq m) on 2ha of land, with a six-bedroom three-bathroom five-car garage house with a pool and solar-powered stable for horses including a "hoof soaking path" cost approximately $1.5 million in 2006.[18] In 2005, the rent for a two bedroom apartment (part of a four bedroom house with a two car garage) was $300 per week.[19]